This Double Decker is from Blackpool England. It was part of the "Standard Class". Some of its sister cars started out as a single deck car and referred to as a Motherwell (the name of the Hurst-Nelson factory at which it was built). The second level was later added. #48 however for all intents and purposes was built new in 1927. Hardly anything from the original 48 was retained.
The car is a crowd pleaser. Most all riders want to ride on the upper level. However the smart ones ride on the lower level. The seating on the top is mere wooden slat seats. The bottom has plush cushion seats.
This car operated at our original museum at Glenwood, then was moved to the Willamette Shore Trolley. The rigors of many round trips per week on the WST took its toll on the car. In the interests of preserving the car, and slow down the wear and tear, it was decided in 2004 to retire the car from the WST and move it to the museum. Since 2006, the car has been at the museum. In 2017, the tram returned to service at the museum, much to the delight of our passengers!
Technical Information
Car #: 48
Year Built: 1927
Builder: Blackpool Tramways
Last Operator: Blackpool Tramways
Car Type: Double-Decker Tram
Year Museum acquired: 1960s
Common Name: Double-Decker
Track Gauge: Standard
# of trucks/Wheels: 2 Trucks
Car Status: Operating
Other details: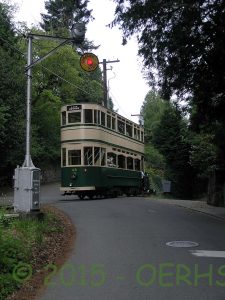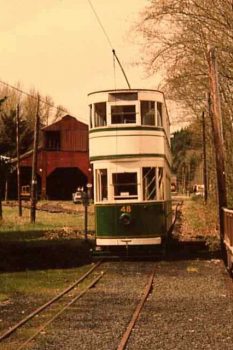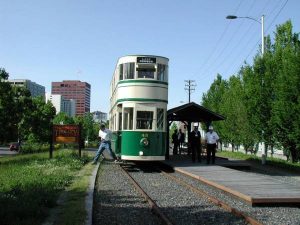 48 at the former Riverplace terminal in Portland.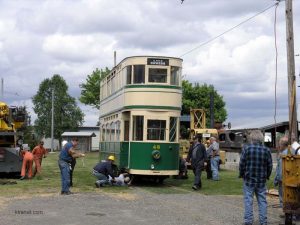 48 when it arrived at the museum in 2006.
Sister car #49 at the National Tramway Museum in Crich, England