Project Quick Facts
What: Bring Oregon Electric Locomotive #21 home to Oregon
Where: From British Columbia, Canada to the Oregon Electric Railway Museum in Brooks, Oregon
Why: OE#21 was important to the development of the Willamette Valley, and relates to the OERHS mission statement of preservation, interpretation surviving historical equipment from electric railways of Western Oregon
Project Cost: $37,000
How can you help? We are a looking for donations and/or pledges. We have set up a one donation via paypal, or you can download a pledge form, and you can mail it in, and/or pay by check:
One Time (or recurring) Donation
NOTE: The OE #21 returned home to Oregon on March 1st. We also successfully made our goal. Donations are still being accepted to protect the locomotive and its eventual restoration.
Here is a video about the OE#21 and its homecoming to Oregon.
The Bring the 21 Home to Oregon project provides a very rare opportunity to be able to repatriate a tangible
piece of Oregon history to a place that was its actual operating home over 100 years ago. And to finally have a piece of Oregon Electric Railway equipment at the Oregon Electric Railway Museum.
The Oregon Electric Railway (OER) was one of the largest electric railways in the U.S. Opening in 1908, the 122 mile electric railway line helped develop the Willamette Valley by enabling growth of many communities and served to transport people and Oregon-produced goods. Very little of the Oregon Electric equipment exists and none of it in Oregon.
Of all the locomotives, OER #21 is one of only two that avoided being scrapped. The #21 was one of four 60-ton locomotives built by GE – ALCO in 1912 for the Oregon Electric in order to meet the demands of the growing Willamette Valley. For the next 34 years it could be found moving freight from Portland south to Eugene and west to Forest Grove.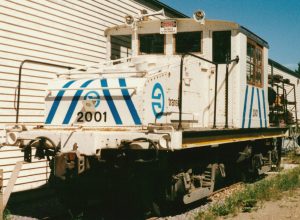 In 1946, all four of these locomotives were sold to the British Columbia Electric Railway (BCER). Oregon Electric #21 became BCER #961 for another 34 year career of service until 1980. Saved once again from the scrapper, this unique locomotive was then purchased by the Edmonton, Alberta transit operation as their #2001. Here it began its third life and was used as a construction & maintenance locomotive throughout the transit system line until retirement in 1998. It was affectionately called "White Lightning" by the crews. It is now located at the Fraser Valley Railway Historical Society's museum at Cloverdale, BC. The Fraser Valley group recently acquired two new interurban cars and now have more equipment than their site can accommodate. They have decided they need to sell Oregon Electric #21 and want to move it as soon as they can. Despite 86 years of service and 18 on display, the locomotive is essentially complete and certainly within the realm of restorability for OERHS.
As a non-profit museum, they have expenses they must meet so need to sell it rather than just donate it to another group. They are offering it for what it cost them to transport it their museum ($15,000). Added to that the trucking, crane costs, stabilization and contingency bring the project cost to $50,000. However, due to financial and site availability constraints they need to have it leave by February 2017.
While this is a great opportunity, it was unforeseen that this vintage locomotive would ever be able to leave Canada and therefore no budget for this project was established by the Board. Further, due to the tight timeline, few applicable grant funds are available.
The Bring the 21 Home to Oregon project will return this important piece of our history where it can be preserve
d, restored and operated for the enjoyment by the public now and in the future. Currently 40,000 people annually visit the Antique Powerland site in Brooks, Oregon – the home of the Oregon Electric Railway Museum where #21 would take up residence. Stories of how the Oregon Electric freight service helped develop valley industry can be brought to life to school groups, scout groups, Oregonians and tourists. An example could show #21 pulling a load of freshly harvested hops for use in brewing. The hops are adjacent to our site – so the locomotive performs in live context of its roles 100 years ago. Interpretation will also showcase an example of clean energy in Oregon transportation from over a century ago.
PLEASE help make this project a success:
Please use the convenient donate button on this webpage, or download a donation/pledge form and mail it in to the address printed on the form. Thank you for your consideration
Thanks to the following contributors to the Bring the 21 Home Fund, As of 3/22/2017 we at 100% of Goal
Marion Cultural Development Corp
Tom Dailey Foundation
Leatherman Tool Group
PNWC-NRHS
Walter Appel
Kurt Astroth
Douglas Auburg
John Ballentine
Alvin Baker
Phil Barney
Steve Berliner
Greg Bonn
Lou Bowerman
Christopher Bowers
Paul Burgess
Nikki Burgess
David Buschow
Bruce Carswell
Shawn & Brian Cass
David Cautley
Gregory Cotton
Nathan Degerstedt
Stephen Dudley
Gene Fabryka
Sheila Fagan
James Folk
Al & Judy Hall
Richard Harrison
Lisa Hayes
Max Hoefer
Peter Hugman
Gary Hunter
Estate of Don Hunter
Suzi Jones
Mark Kavanagh
Peter & Annelies
Craig Koon
Lon Lasher
Corina Laws
Steve Magnuson
Pete Manuele
Philip Marceau
Darrel Mattoon
Rick Mendenhall
Phil McCall
Charles McCarthy
Ronald McCoy
Dan McFarland
Virginia McQueen
Mark Moore
Steven Morgan
John Nagy
Ken Peters
Charlie Philpot
Daniel Rasay
Kevin Reilly
Steve Rippeteau
David Rowe
Carolyn Rust
Adam Samish
Camron Settlemier
Andrew Sisk
Eric Sitiko
Joy Fuller Stephens
T. Trent Stetz
John Taubeneck
Ron Vandehey
Kenneth Vannice
Carolyn Vernon
Nick Williams
Jan Zweert