Blackpool
Tram #48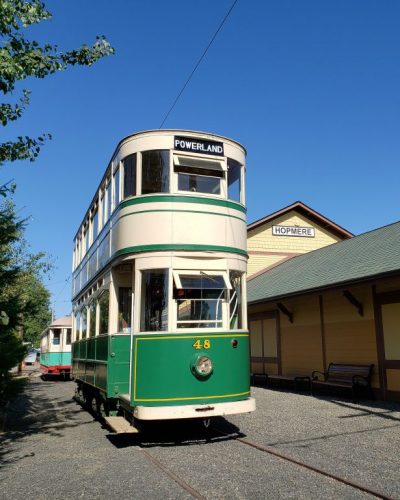 This is a double-decker tram that ran in Blackpool, England. Blackpool is a seaside resort town noted for its promenade and trams. It is the only city in England that never stopped operating trams. Today modern light-rail vehicles operate alongside the historic trams.
Car #48 was the last tram to operate out of the Morton Depot in 1960. In 1962 the tram was shipped to the US and trucked to our former museum at Glenwood. The car operated for several years on the Willamette Shore Trolley until 2004, when it was moved to our museum in Brooks.
This car is a crowd favorite. Everyone loves to ride this car, especially for its views from upstairs. However, if comfort is your priority, the downstairs salon has much more comfortable seating.
Car Facts
Year Built: 1928
Builder:
Year Retired:
Museum Acquired:
Track Gauge: Standard
Motors:
Status: Operational
Car when it was in service in Blackpool: