Portland Council Crest # 506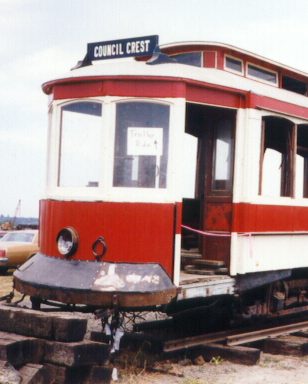 Car # 506 is one of the famous Council Crest Cars that operated in Portland, Oregon, up to the top of its nicknamed hill. It was one of 10 cars built in 1904 for Portland Railway Co. The museum retains 2 of these class cars, the other is 503.
506 still retains its narrow gauge running gear. This class car was unique in that it has electric brakes instead of air brakes for it to negotiate the hilly terrain of its route.
506 will be preserved on its original running gear which means it will not operate at the museum unless narrow gauge track is laid. Car 503 however can operate, since it was re-trucked to standard gauge.
Your fares and donations will help preserve this car for future generations.
Car Facts
Year Built: 1904
Builder: J. G. Brill
Year Retired: 1904
Museum Acquired: 1949
Track Gauge: Narrow-Gauge
Motors:
Status: Static Display
Car when it was in service in Portland: