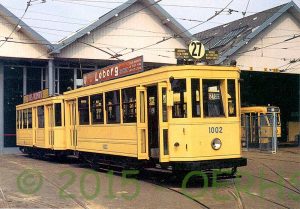 In the summer of 2015, the OERHS reached an agreement with an owner of 9 Brussels Trams, located in Port Mellon, British Columbia, Canada with the intent to move them to the museum. The museum is better suited to preserve, restore and operate them then they were are their former location.
In order to save this world class collection of trams, the museum must repay the moving costs (Approximately $45,000), provide temporary weather protection (about $15,000) and eventually build a carbarn and restore these at least a few of the cars to service (well over $200,000). The cars were moved from late May thru mid-July in 2015 to the museum
Each of these cars tell a story about Brussels tram operation from the early 1930's through the early 2000's. They are worth preserving as a collection.
The museum is looking for help to raise funds. The simplest way is to donate via PayPal. Please consider donating via our PayPal links below. Your donations may be considered Tax Deductible as the OERHS is a 501(c)3 non-profit corporation.
Thanks to the following contributors to the Brussels Car Fund
The Brussels Collection