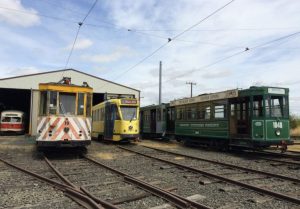 Challenge Grant Fund Raising goal status
WE DID IT!! We raised the $11,500 needed for the match THANK YOU to all our donors!!
20th Century Electric Railway Foundation offers challenge grant to OERHS to keep the Brussels cars – your new donations could be DOUBLED!
In the summer of 2015, the OERHS reached an agreement with the owner of 9 historic Brussels Trams, located in British Columbia, with the intent to donate and move them to the museum. Each of these cars tell a story about Brussels tram operation from the early 1930's through the early 2000's. They are worth preserving as a collection. In order to save this world class collection of trams, the museum must repay the moving costs: $45,000. The cars were moved in the summer of 2015 to the museum
As of July 2018, the OERHS has paid roughly half of the moving cost. The OERHS has also brought two of the nine cars back into operation.
It is because of this that the OERHS has received a challenge grant from the 20th Century Electric Railway Foundation to ensure the cars stay at our museum. They have pledged up to $11,500 in matching funds. So for every $1 donated by you, the foundation will match your donation. If we reach the goal of $11,500 in donations, this would raise $23,000, which would pay off all moving costs. If we don't raise the $23,500, the cars may have to be sold or scrapped.
Your donations to save this collection may be considered Tax Deductible as the OERHS is a 501(c)3 non-profit corporation.
The simplest way is to donate via PayPal using the donate button below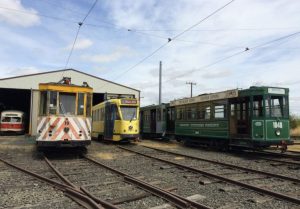 If you would prefer to pay by check, please make it payable to: OERHS and mark it for the Brussels Grant. Then mail it to: OERHS, 3995 Brooklake Road, Brooks, OR 97303
Note: if you prefer to have an anonymous donation, please specify during PayPal checkout or on your check.
Thank you for your consideration!
Thanks to the following pledges and contributors to the Brussels Car Fund for our challenge grant match:
Michel Bernard
Gene Fabryka
Mark Kavanagh
Stephanie Lejeune
Philippe Matagne
Charlie McCarthy
Virginia McQueen
Mark Moore
John Nagy
Joe Pivovarnik
David Rowe
Steven Souza
Carolyn Vernon
Fritz Camp
AQA Associates
Marquerrite Binns Bernstine
Amazon Smile Purchases
Facebook Network for Good
Jared Adkins
Stephen Dudley
Dan Hanekow
Peter Kloosterman
Charlie Philpot
Ken Peters
Naomi Carrier
Janice Reddaway
Mark Terkelsen
Richard Thompson
Bryan & Liz White
Louis Bowerman
Kevin Reilly
Jan Zweerts
Richard Francaviglia
Betty Ballentine
John Ballentine
Neal Berlin
Susan Jones
Jan Bartlett
Evan Burroughs
Anthony Banchero
Mark Sylvester
The Brussels Collection
Early donors to our Brussels Tram project: