Hong Kong
Tram #12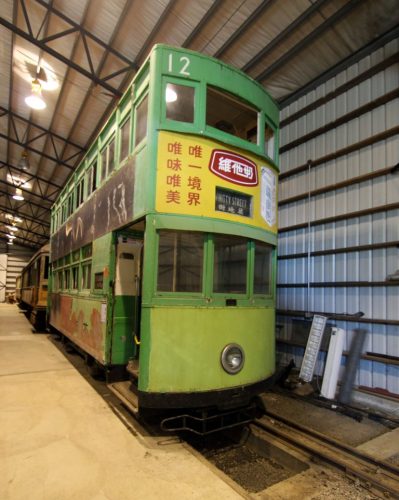 This is a double-decker tram that ran on Victoria Island in Hong Kong. Tram first operated in 1904 as single-deck trams. They quickly proved popular, so the system changed to double-decker trams for more capacity. Double-deck trams still operate in Hong Kong with very frequent service. At its busy stretches, there is a tram about every minute or less
This tram was brought over to Oregon by the late Bill Naito as a project to start a vintage trolley service in Portland's Old Town. The project eventually became Vintage Trolley they ran on the MAX lines until a few years ago. Sadly #12 never operated, it had been stored in Montgomery Park.
The museum acquired the car in 20XX. This tram is only 1 of two left from the trams that were built in 19XX. The other one is located at the Hong Kong History Museum.
Popular with young museum visitors is the very low ceilings on both levels and the very tight stairs.
Car Facts
Year Built:
Builder:
Year Retired
Museum Acquired:
Track Gauge: 3′ 6″ (Narrow)
Motors: Removed
Status: Static Display
Car when it was in service in Hong Kong: